Sunlight VANS Adventure Edition
For all of you who are carrying tons of equipment, but still want a really agile and flexible ride: our slim, compact VANS love cruising on mountain passes or through narrow roads. With their clever layout, they still offer a lot of storage space in the living area as well as in the separate garage.
Standard Equipment
Fiat Ducato 2,2 l Multijet 103 kW (140 BHP) – EURO 6
Chassis colour white
Painted bumper
Adventure Decals
Soft furnishing Adventure
FIAT original 16″ alloy wheels for Light Chassis
2nd external storage door (size depends on layout)
Bed conversion single to double bed (V 66)
Cab sunroof
Basic Pack
Style Pack 1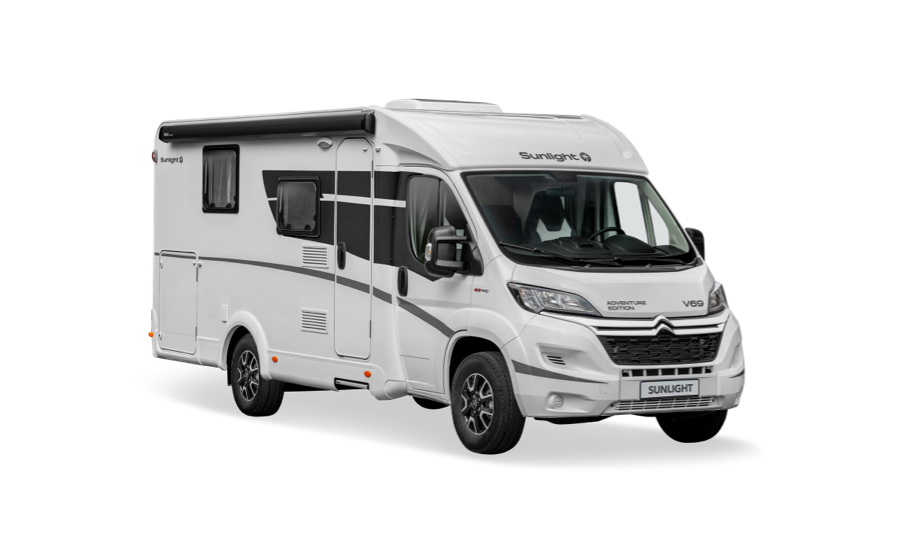 Perfect in practice
We won't be rolling out the red carpet — but we will be lowering the electric step. Our highlights show that we know exactly what counts: we like it safe and smart, convenient and comfortable.
GRP sunroof and rear panel

Electric entrance step

Servo soft drawers

Vans Adventure Edition V 60
Permitted seats 4
Berth 2-3
Total Length 595 cm
Total Width 214 cm

Vans Adventure Edition V 66
Permitted seats 4
Berth 2
Total Length 665 cm
Total Width 214 cm

Vans Adventure Edition V 69
Permitted seats 4
Berth 2
Total Length 686cm
Total Width 214 cm