The 70Q strikes a good balance, combining the comfort of a great lounge with a bedroom featuring an island bed, and all in a vehicle under 7 metres long. This vehicle offers wonderful living spaces thanks to its modern, bright interior. It also features impressive storage space.
6.99 metres long by 2.30 metres wide
4 registered (driving) seats and 4 berths (+2 as an option)
800 kg payload
Storage area hatch size: 88 cm x 88 cm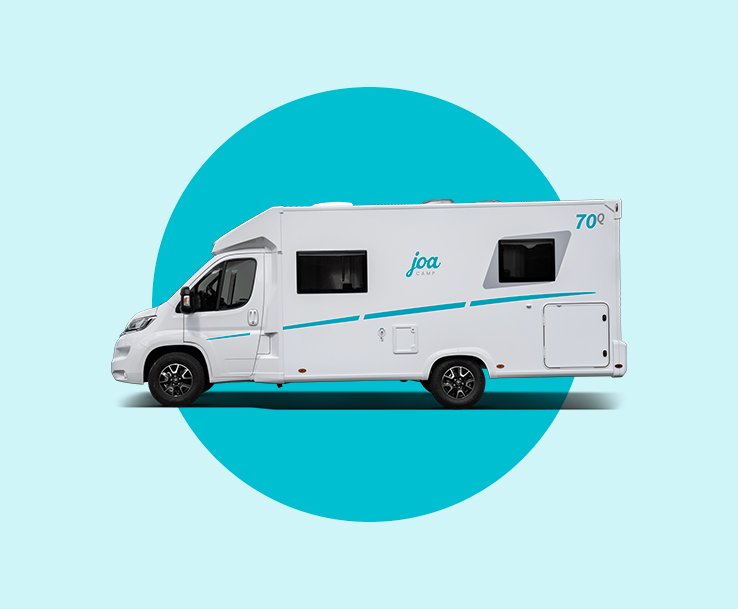 Bedroom

Even a short nap deserves a large bedroom with a 150 x 190 cm island bed featuring a comfortable mattress and slat base. The bedroom also includes wardrobes, overhead cupboards, 230 V outlets and USB ports. Draw the curtain across and enjoy being alone with the beautiful view.

Kitchen

In the kitchen, everything has been designed so you can savour wonderful times: worktop, 2-hob stove top, large pot drawers, 133-litre fridge with a freezer compartment, and waste bin. And don't forget the storage space under the fridge where you can keep everything you need for preparing delicious food. In short, this is a user-friendly, fully-equipped space.
Cab

Driving is part of the holiday experience, which is why we have refined the driver's cab. You get a next generation Citroën chassis as well as a long list of the latest safety features: driver and passenger air bags, speed limiter, cruise control, ABS (anti-lock braking system), electric, auto-defrost wing mirrors (with 2 wide-angle and blind spot mirrors), ESP, central locking and front electric windows. Taking a break? Close off the cab area by drawing the curtain across.

Lounge

After travelling the roads, gather in the large 4-person lounge for a well-deserved drink and enjoy the high density foam seats offering great durability. The large table slides out and swivels, freeing up space to move around or enjoy a meal in comfort. Overhead cupboards give you all the storage space you need. All that remains is to switch on the soft, energy-saving LED lights and enjoy a wonderful evening.
Washroom

The shower area has been designed to suit everyone, both short and (very) tall. Pull the sliding partition across and discover everything you need: storage, towel rail under the basin, mirror, elegant LED lighting, skylight for ventilation and cassette toilet. Because you spend less than 15 minutes per day here, it has a practical and compact design.



Hold

Got some bulky supplies? Sun loungers? An outdoor table? A bike or cross-country skis? A small barbecue? You're in luck! There is a large, full-width, well-insulated storage area with lighting. It also features a 230 V outlet.
Technical Specification
Width / Height: 230cm x 285cm
Heating type: 4,000 W Truma® Combi 4 hot water/heating (gas/230 V)
Fridge: Automatic management and grid caches: 133 L
Fuel tank: 90L
Bed size: 73x192 / 73x200
Storage area size: 88cm x 88cm (access gate)
Payload: 800kg
Wastewater capacity: 95 L
Clean water capacity: 130 L
Size of living room: 193 cm (Height in living room with roof bed)



Motorhome 70Q

A great compromise for 2 or 4 people wanting to travel in a reasonably sized vehicle.

5 seats 6,99m long

2 sleeps (+3 optional) 2,85m high
Packs
Chassis pack = £1,140

LED day running lights
Leather steering wheel and gear knob
Aluminium grey finish on air vent
Hands-free kit and steering wheel controls
16" black finish alloy rims - 225/75/R16CP

Living area pack = £960

Cab carpet
Opening skydome
Living area door with 1-point locking and window + flyscreen
Folding towel rack
Pressure regulator for heating while driving

Extra pack = £3,260

1 x 100 W PERC high-efficiency monocrystalline solar panel
DAB car radio with 8" screen and AppleCar/Android Auto
Reversing camera
Additional sleeping capacity in lounge (1 or 2 people depending on layout)
Combi6 EH TRUMA®heating 6000 W (gas/230 V)
Anti frost waste water tank