KNAUS SPORT&FUN
The practical one

Our dynamic Lifestyle load master combines the best of two worlds. Progressive design and an unbelievable amount of room for plenty of action. Rear door open, bikes in, camping equipment into the huge bow compartment and off you go. Wherever you want and for as long as you like. The SPORT&FUN is the extreme sports athlete of caravans.
920 mm wide rear door
Huge garage at front
Sporty, striking design
Roof rails
Height-adjustable bed (optional)
Roof load up to 75 kg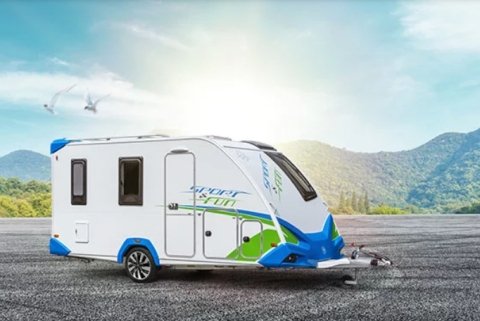 KNAUS SPORT&FUN


Perfectly equipped, brilliantly styled, highly sought after

This is what a modern icon looks like! The SPORT&FUN is one of the few caravans that has a very committed fan base. And we believe that this will be given lots more – because who can resist this sporty exterior?

* Aerodynamic silhouette
* Unmistakable design
* Huge front and rear garages
* Practical rear doors

More room, more equipment, more style: We have given our classic caravan lots of details that are worth taking a look at.




KNAUS SPORT&FUN


Lots of room, lots of style and countless great ideas

Only one layout. It is as diverse as no other. Whether a stylish companion on holiday or a practical space miracle. The KNAUS SPORT&FUN can do both. This is ensured by the practical and highly flexible equipment, which in combination with the individual design ensure a unique camping feeling and, in addition also ensure that you can enjoy your vacation to the fullest.





SPORT&FUN Profile
Perm. total weight:1.300 kg
Length:625 cm
Width (ext):232 / 216 cm
Height (ext):257 / 196 cm
Sleeping berths:4
Sport&Fun 480 QL
Sleeping Places 4
Bed Variants Folding bow bed, Lounge sofa convertible to double bed
Total Length 625 cm
Total Width 232 cm
Unladen Mass 1130 kg