KNAUS SÜDWIND
The Caravan Icon
Whichever way the wind blows, the SÜDWIND raises a storm of enthusiasm with a completely overworked interior and exterior design as well as many standard equipment highlights. You can look forward to modern furniture design in integral construction, energy‐saving interior lighting with LED technology and our extra‐wide body door. We also ensure a strong appearance on the outside, with the revised CATEYE evolution rear tail lights, the elegant roof made of high‐strength fibreglass, and a timeless silhouette that lives up to SÜDWIND's name!
CATEYE evolution rear tail light with dynamic indicator
Extra‐wide body door
Storage box hatches with soft‐close function
Self‐adjusting ALKO brake
ServiceBox
Interior lighting with LED technology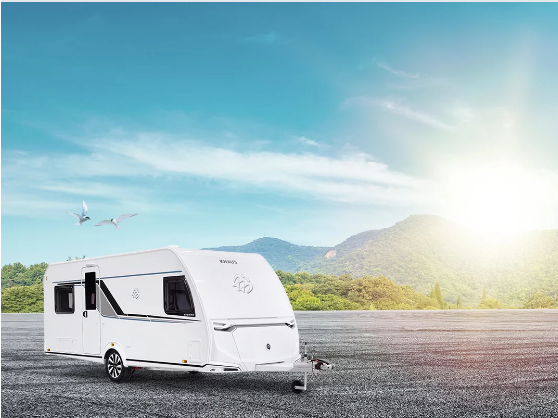 A BREATH OF FRESH AIR FOR FAMILY TIME

There is plenty of space in the spacious dinette for doing arts and crafts with the whole family. The bright, warm ambience and numerous windows create a unique feeling of space.



FOR THE VERY WELL‐RESTED

The beds are arranged in such a way that they look like little oases of retreat. Mara and Maja love their bunk bed. Here they each have their own area, yet they are both together and they can climb too.

EVERYTHING NEATLY ARRANGED

Sunscreen, shower gel, children's shampoo, deodorant… The list of bathroom utensils for the whole family is quite long. Lisa is all the more pleased that there is a place for everything here.
SÜDWIND Profile
Perm. total weight:1.300 – 2.200 kg
Length (min/max):647 / 865 cm
Width (ext):232 – 250 cm
Height (ext):257 cm
Sleeping berths:up to 6
Sudwind 420 QD
Sleeping Places 3
Total Length 647 cm
Total Width 232 cm
Sudwind 450 FUSleeping Places 4
Total Length 671 cm
Total Width 232 cm
Sudwind 500 UF
Sleeping Places 4
Total Length 731 cm
Total Width 232 cm